National Trust and Heritage Listing
Delgany is considered to be of historical and architectural significance to the State of Victoria and is listed on the state level of The National Trust and the Victorian Heritage Register. It also has a heritage overlay with Mornington Peninsula Shire Council. The gardens are included in the heritage envelope.
It is of architectural significance as an ambitious and unusual example of the later work of noted Victorian architect Harold Desbrowe Annear and is considered to be the most ambitious and spectacular of the ten or so Mornington Peninsula houses designed (or upgraded) by him.
Delgany is of historical significance for its association with the prominent Armytage family, and with Harold Armytage in particular. Although his ownership of the property was brief, Harold was the driving force behind the construction of the castle and its establishment as a large and distinctive seaside residence in an area noted for substantial rural retreats.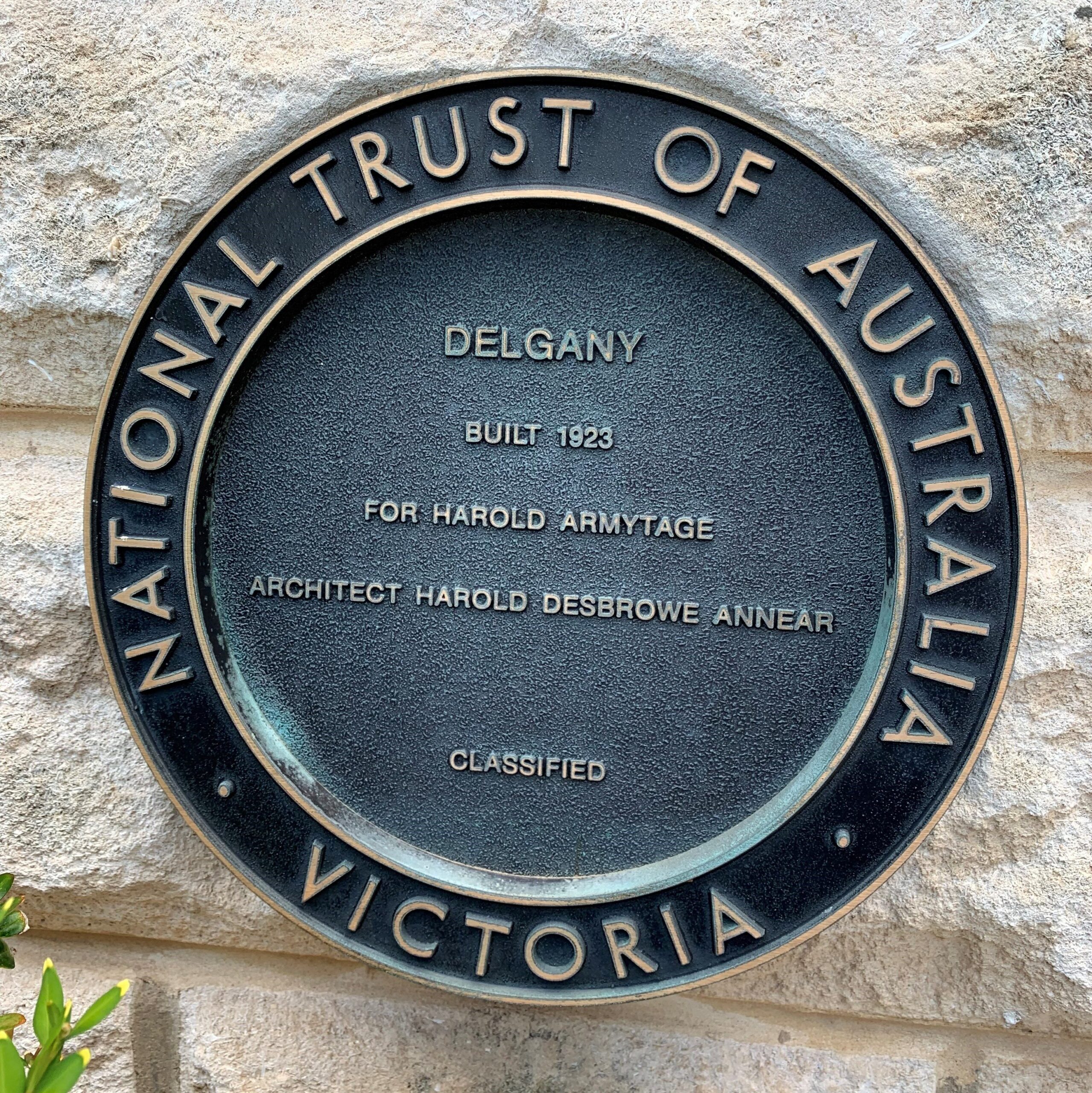 Delgany is also of historical significance as it demonstrates the importance of status to lifestyles of the Victorian wealthy establishment families in the first part of the 20th century. Delgany like other prominent holiday houses in the area was an expression of this status. Probably even more so than the statement made by the house itself, this aspect of the place's significance is best encapsulated in the garage. Built at a time when car ownership was limited and generally to those with a higher income, such a prominently placed and well-designed building as this garage is a demonstration of both the novelty of the car and the expression of the status that it represented. The garage is also a further expression of the leisure lifestyle that the house provided, and which car ownership would have assisted in accessing.

The other area of Delgany's historical significance is its role in the education and care of the physically handicapped in Victoria due to its association, from the 1940s to the 1980s, with the Dominican Sisters St Mary's School for the Deaf and Dumb. The latter was a major initiative of the Catholic Church at the time, and when it opened was the only Catholic boarding school for deaf children in Australia. The form that Delgany takes today is a result of major additions made during the Dominican Sisters' ownership.